The world has been at peace for a little while now and most of everyone has been driven into a false sense of security. Now the Witch trimulative has been formed, and they are after the DWMA. (UNDER CONSTRUCTION)
Owner:
Game Masters:
Topic Tags:
Forum for completely Out of Character (OOC) discussion, based around whatever is happening In Character (IC). Discuss plans, storylines, and events; Recruit for your roleplaying game, or find a GM for your playergroup.

I considered the idea you guys were chatting about in the OOC. Since all Kishin Eggs are different in appearence, skill, and even race, I decided to post a thread on the general idea of most types of Kishin Eggs.
Evil Human


The Most basic type of Kishin Eggs, Evil humans are those who have committed evil deeds, like murder, and their soul gets tainted in the process. A human who has become a Evil human usually doesn't keep their human characteristics. They can become giants, shrink to midgets, anything you could think of. There are some evil humans who keeps some of their human characteristics, like Alcapone.
Undead Kishin


These are Undead corpses that have been brought back by a Witch to go wreak havoc on whatever crosses it's path. These require a human soul, a ritual, and the magic of a Witch to create. They can be tricky to get rid of because they move slow and are extremely resilient, but they are usually just cannon fodder and used for distractions. Easy souls for your weapon though.
Dark Weapon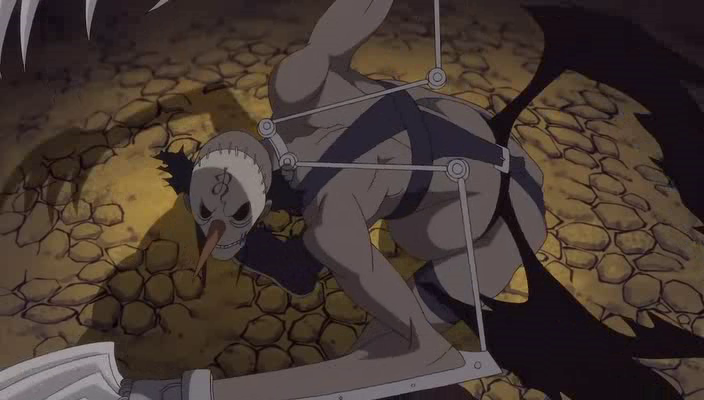 This type of Kishin Egg is a weapon gone crazy devouring Human Souls. They can vary anywhere between a giant monster with razor blade hands or a normal dark human with blaster fingers. They are considered betrayers to the Academy, and are one of the top priorities to deal with when one is discovered.
Egg Leader


These guys are the closest to becoming a full blown Kishin and are the ones who are usually leading other Kishin Eggs. They are considerably more powerful than their other Egg subordinates. They are considered one of the most dangerous Kishin Eggs there are, and fighters should beware.
Black Blood Fighters


Not always Evil, but they are considered to have a considerable bit more madness than most other normal people, and those who are able to control the Black Blood are extremely powerful. If they are Evil, they are top priority for the DWMA right behind witches.
Well this was horrible, I mainly just came up with some of these on my own, so they probably really suck. Oh well, I like them. Any questions on them post here.

DemonDante

Member for

1

years


---
---
Post a reply
RolePlayGateway is a site built by a couple roleplayers who wanted to give a little something back to the roleplay community. The site has no intention of earning any profit, and is paid for out of their own pockets.

If you appreciate what they do, feel free to donate your spare change to help feed them on the weekends. After selecting the amount you want to donate from the menu, you can continue by clicking on PayPal logo.
Who is online
Registered users: A.C.*, Akantha*, Akita, almostinsane, Arcana, Arceius*, ArgoYamato*, Armageddon, Artsydaze, AugustArria*, AzricanRepublic*, bandgeek*, BikerAngel, blacksky, BleachFan95, BleedingLover, blueluckster*, Blush*, brendxb*, BumbleDrop*, Caeruleus Lupis, Canibelle*, ceh12*, Centi85*, chaoticcarrot, ChaoticMarin*, Chocolate~Pyrus, Chuckles*, Cienpher*, CNAGamer, code6435*, Comrade*, CookieCupcake*, CookieRaiderEng*, Cordeaux*, CptxMorgan, CrashQueen, Curtsive*, Dark Star*, Data3*, Digital_Muse*, Disarmhxc*, DontBeMad*, Doodlepad, Drygionas*, Dude, Eddy V. Sovorov, Edge, Ellipsis of Gothique*, emjajoas*, Erik7622*, Essence, Everscale*, Exabot [Bot], FamishedPants, fate0013, Finalhazard3, FizzGig, Floorgan*, flying monkey child, Forensic_Anthro*, Fox in a Lab Coat*, Geekly*, Genesis Rhapsodos, GK061490, Google [Bot], Google Adsense [Bot], Google Feedfetcher, Hinasil, HitoriRaven, Horseygirl*, Hydrall, Igari, Iimago*, Insomniatic*, Ion, Izzyvamp, jackrules158*, Jadeling Hawkins*, jakomocha*, JEDH3*, Karu*, Khorudan*, KiraArsenic, Kiyokojordie*, KonamiCode, Kreator*, Kura Ravengade*, Kurokiku, Kuukakulily*, Lady Scarlette, LadyLibby*, Lainpinky131*, Laseu, LaXnyd*, Leb, Lingeringrepose*, Linnea*, Liquidus, LittleFox13, lostamongtrees, Magic Man*, MaliceInWonderland, Marcus*, mariamaeoccheto, Midnightclub*, Morgan, MSNbot Media, Naruto94*, Negative Bowser*, Nekohina, Nemo*, nightwolf, Nikolai, Nivosity*, NotSoHeartless*, OrgasmoKate, Passionate Shadow*, Patcharoo*, pepperx3, pieluver, Possibility*, Pratt, Princess Awinita*, PsychicBastard*, Qaida, qbsuperstar03*, QueenJen*, RacoonMoon()*, rdaydreamer, Reaper2707, Redred33mer*, RedWolfe, Rem?us*, Romaneck, RPGRosa, SarcasticIrony*, Savader, Scarlett_Rose*, Scorpion01*, Seerow*, Selmaina, SeraphimLullaby*, Shadetree76, Shaodow, Shiki29*, Shiva*, Shpleem*, Sicariius*, SleepyShadow*, SolidSnacks*, Sonicx00*, SoulSurviver233*, spartan322, spudjohnson, StandardFiend*, Stilts, Tainted Twinkee, Tanman, Tash*, Tearen Wover*, TH-1997*, TheRustedRoot*, TheUnnamedOne, Tiko*, TnevdaNai*, toysolider*, Treyn92*, True Grave, UnknownInsanity*, usernamesareadrag*, Venom0861*, vilevixen*, Vinn, Vizcious, warthog*, WhatsUpWazza*, Wiith*, Witless, wmnknnd45, wolfoftheage*, Wyvern*, Xistinna*, XShishioX, XxEvil1xX*, xXRawrDarkWolfXx*, Zentose*, Zonethehedgehog*
Source: http://feedproxy.google.com/~r/RolePlayGateway/~3/mCaRDFVKyXY/viewtopic.php
mega millions winner holy thursday chris stewart evo 4g lte marlins new stadium arnold palmer augusta national