It seems like just about every new laptop, phone, portable music player, car and other hi tech item received this holiday season came equipped with ?Bluetooth? technology. Did you know that BLUETOOTH? is a registered trademark? And so is the Bluetooth symbol or logo that you see on many computer devices. Are the name and logos good ones??
Bluetooth is actually an industry standard. ?As a result it really has no direct competition. But it is a coined arbitrary name ? the words do not describe what the service is or any of its features. The industry standard is managed by a consortium of companies. Many other electronic standards are similarly managed. Those who want to use the technology and name must license the patents and trademarks from the Bluetooth Special Interest Group.
According to a Wikipedia entry, ?The word ?Bluetooth? is an?anglicised?version of the Scandinavian?Bl?tand/Bl?tann, the?epithet?of the tenth-century king?Harald I of Denmark?and parts of?Norway?who united dissonant Danish tribes into a single kingdom. The idea of this name was proposed by?Jim Kardach?who developed a system that would allow mobile phones to communicate with computers (at the time he was reading?Frans Gunnar Bengtsson?s historical novel?The Long Ships?about Vikings and king?Harald Bluetooth).[4]?The implication is that Bluetooth does the same with communications protocols, uniting them into one universal standard.[5][6][7]?
Having an arbitrary creative name makes for a strong and distinctive trademark. And having an interesting backstory, like this one for Bluetooth, make the name even more special. ?The name has a meaning that relates in some way to the purpose of the products, but only to those who know the story.
The logo apparently comes from a ?bind rune? combining letters from an old runic alphabet.
I think the name and logo are terrific. The logo is great because it looks both high tech and old fashioned at the same time, it is blue, which is suggestive of the name, and it features a ?B? shape. The name is great because it is unique, it is creative, it is protected and registered (see below), and it is memorable. The logo can appear by itself on a small mobile display and immediately convey meaning to users.
Of course, it is a lot easier to use a made up arbitrary term when you have no real competition. Users will have to use your brand whether they like it not, whether the brand is catchy or not. But regardless, Bluetooth got it right.
Here are two of the Bluetooth USPTO trademark registrations:
BLUETOOTH - (certification mark) -?TELECOMMUNICATION SERVICES; COMPUTER COMMUNICATION SERVICES;?TELECOMMUNICATION EQUIPMENT, COMPUTER COMMUNICATION EQUIPMENT, INCLUDING RADIO MODEMS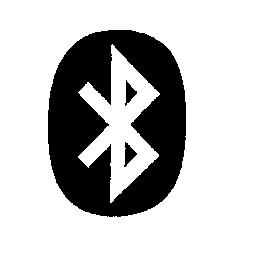 (click logo for USPTO record)?-?APPARATUS FOR RECORDING, TRANSMISSION OR REPRODUCTION OF SOUND, IMAGES, AND LIGHT, NAMELY, PHONOGRAPHS, CASSETTE TAPE RECORDERS, COMPACT DISC RECORDERS, DVD RECORDERS, VIDEO RECORDERS, RADIO RECEIVERS, STILL CAMERAS, VIDEO CAMERAS, TRANSCEIVERS, RADIO AND TELEVISION TRANSMITTERS, SOUND ENCODERS AND DECODERS, VIDEO ENCODERS AND DECODERS, RADIO FREQUENCY BASEBAND PROCESSORS AND MODEMS; APPARATUS AND INSTRUMENTS FOR DATA COMMUNICATION, SATELLITE COMMUNICATION AND TELECOMMUNICATION, NAMELY, TELEPHONE, SATELLITE, AND RADIO RECEIVERS, TRANSMITTERS AND TELEPHONE HEADSETS; COMPUTER HARDWARE; COMPUTER PROGRAMS FOR WIRELESS COMMUNICATION; COMPUTER INTERFACES, MODEMS AND PERIPHERAL EQUIPMENT, COMPRISED OF PRINTERS, MICE, MONITORS, KEYBOARDS, AND DONGLE CABLES; TELEPHONE BASE STATIONS; TELEVISION APPARATUS, NAMELY, SCREENS, TUNERS, AND RECEIVERS; ELECTRONIC AMUSEMENT APPARATUS ADAPTED FOR USE WITH TELEVISION RECEIVERS; GAMES ADAPTED FOR USE WITH TELEVISION RECEIVERS, NAMELY, COMPUTER GAMES, COMPUTER VIDEO GAMES, GAME CONSOLES AND JOY STICKS; CASH REGISTERS; ELECTRONIC INSTALLATIONS FOR THE REMOTE CONTROL OF INDUSTRIAL OPERATIONS, NAMELY, COMPUTERS, CENTRAL PROCESSING UNITS, COMPUTER KEYBOARDS, PRINTERS FOR USE WITH COMPUTERS, CONTROL PANELS, MONITORS, PATCHBOARDS AND DISTRIBUTION BOARDS; ELECTRONIC PENS; PROTECTIVE HELMETS; ELECTRONIC RADIOS; TRANSMITTERS; TELEPHONE APPARATUS, NAMELY HANDSETS, BASE STATIONS AND RECEIVERS; TRANSMITTERS; TIME RECORDING APPARATUS, NAMELY, CLOCKS, WATCHES, ATOMIC CLOCKS;?SURGICAL IMPLANTS; SURGICAL LAMPS; CATHETER TUBES; THERMOMETERS FOR MEDICAL PURPOSES; TRACTION APPARATUS FOR MEDICAL USE; ULTRASONIC MEDICAL DIAGNOSTIC APPARATUS; BASEBAND PROCESSORS AND INTEGRATED CIRCUITS USED IN MEDICAL IMAGING SYSTEMS; ACUPUNCTURE INSTRUMENTS; AIR PILLOWS FOR MEDICAL PURPOSES; AUTOCLAVES FOR MEDICAL USE; BED VIBRATORS; BREAST PUMPS; ENEMA APPARATUS; TESTING APPARATUS, NAMELY, BLOOD TESTING DEVICES, BLOOD PRESSURE MONITORS, BREATH GAS ANALYZERS; HEART MONITORS; HEMO-DIALYSIS APPARATUS; WIRELESS NETWORKS FOR MEDICAL AND ORTHOPEDIC SYSTEMS AND INSTRUMENTS; ARTIFICIAL LIMBS; HEARING AIDS FOR THE DEAF;?MOTOR CARS;?PRINTED MATTER, NAMELY, STATIONERY, BUSINESS CARDS, BOOKLETS, GREETING CARDS, HANDBOOKS, POSTCARDS, POSTERS, BOOKS, PERIODICALS, MANUALS, BROCHURES, MAGAZINES AND PUBLICATIONS IN THE NATURE OF INSTRUCTIONAL AND TEACHING MATERIALS, ALL IN THE FIELD OF TELECOMMUNICATIONS AND RADIO COMMUNICATIONS; PAPER, CARDBOARD AND GOODS MADE FROM THESE MATERIALS, NAMELY, FLYERS, MANUALS AND PENS;?GAMES AND PLAYTHINGS, NAMELY, ACTION SKILL GAMES;?TELECOMMUNICATION SERVICES, NAMELY, SHORT-RANGE RADIO COMMUNICATIONS, AND PERSONAL AREA NETWORK COMMUNICATIONS; CELLULAR TELEPHONE COMMUNICATION SERVICES; COMMUNICATIONS BY COMPUTER TERMINALS, NAMELY, ELECTRONIC TRANSMISSION OF DATA AND DOCUMENTS VIA COMPUTER TERMINALS, COMMUNICATION BY TELEPHONE, ELECTRONIC MAIL SERVICES AND PAGING SERVICES; COMPUTER AIDED TRANSMISSION OF MESSAGES AND IMAGES; RENTAL OF MESSAGE SENDING APPARATUS; PROVIDING INFORMATION ABOUT TELECOMMUNICATIONS GOODS AND SERVICES;?CUSTOM CONSTRUCTION OF TELECOMMUNICATIONS EQUIPMENT AND SATELLITE COMMUNICATIONS EQUIPMENT TO THE ORDER AND SPECIFICATION OF OTHERS;?EDUCATIONAL SERVICES, NAMELY, CONDUCTING CLASSES, SEMINARS, CONFERENCES, CORRESPONDENCE COURSES, WORKSHOPS AND TRAINING IN THE FIELDS OF DATA COMMUNICATIONS, PERSONAL AREA NETWORK COMMUNICATIONS, SATELLITE COMMUNICATIONS AND TELECOMMUNICATIONS;?TECHNICAL CONSULTATION IN THE FIELD OF DATA COMMUNICATIONS, PERSONAL AREA NETWORK COMMUNICATIONS, SATELLITE COMMUNICATIONS AND TELECOMMUNICATIONS; BASIC RESEARCH IN THE FIELD OF PHYSICS, CHEMISTRY AND ENGINEERING; COMPUTER PROGRAMMING SERVICES FOR OTHERS; LEASING OF DATA PROCESSING EQUIPMENT; CUSTOMER SERVICES, NAMELY, PROVIDING TECHNICAL ASSISTANCE AND CONSULTATION, COMPUTER DIAGNOSTIC SERVICES, REMOTE AND ON-SITE MONITORING OF COMPUTER SYSTEMS
?
Source: http://www.erikpelton.com/2012/12/26/love-it-or-leave-it-bluetooth-trademarks/?utm_source=rss&utm_medium=rss&utm_campaign=love-it-or-leave-it-bluetooth-trademarks
keratosis pilaris rock and roll hall of fame 2012 brandon rios oklahoma news nascar news doppler radar colorado rockies